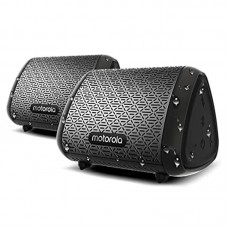 Twin Speakers
Waterproof: IPX5
Playtime: 11 hours
Bluetooth Version: 5.0
Out Of Stock
library_addAdd to Compare
Built-in mic for hands-free calls
Alexa, Siri & Google Assistant
Bluetooth Version: 4.1
Playtime: 4 hours
Out Of Stock
library_addAdd to Compare
Type: Wireless
Waterproof: IPX5
Playtime: 9 hours
Bluetooth Version: 5.0
Out Of Stock
library_addAdd to Compare
Showing 1 to 3 of 3 (1 Pages)
Motorola Bluetooth Speaker with the Best Features Available at an Affordable Price in Bangladesh
Motorola is a huge American company that makes an abundant amount of products that are technologically advanced and superior. They are making very good quality and high-performing Bluetooth speakers that are compatible with any phone. The durability and performance capability is noteworthy as it is able to provide the same level of performance even after many years.
Speakers Made for You
The Motorola Bluetooth Speakers are made with numerous features and perks that allow it to be superior and dominate other speaker brands. These Motorola Speakers are very compact and versatile as it can be moved around very easily and work in any environment effortlessly. Packing in powerful speakers and bass, the speakers are able to provide you with crystal clear sound quality and a clear audio experience. The lightweight and small size allow you to easily pack the speakers and take it with you anywhere you go.
Supremacy in Every Way
A stylish look, high-quality building materials, and the phenomenal sound system let these small-sized speakers to pack a hard punch in the audio experience. Size doesn't matter is true for these speakers as whatever the size may be, the speakers are still able to provide high-quality sound. The internal battery of the speakers is very power as it allows the speakers to play continuously for a long duration.
Motorola Bluetooth Speakers Near You
High-quality and durable Motorola Speakers are now available at Star Tech for your audible experience. Get these advanced speakers from any of our shops that are located in Chattagram, Dhaka, Khulna, Gazipur and Rangpur. You can also acquire these Motorola Bluetooth Speakers directly from our website.