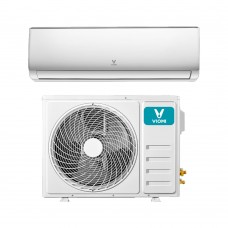 Type: Split Non-Inverter Smart AC
AC Capacity: 1 TON
Powerful & Tropical Compressor
Copper Pipe Efficient & Quiet Design
Up Coming
library_addAdd to Compare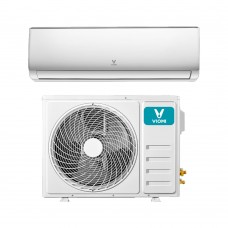 Type: Split Non-Inverter Smart AC
AC Capacity: 1.5 TON
Comfortable Sleeping Mode
Smart Energy-saving operation
Up Coming
library_addAdd to Compare
Showing 1 to 2 of 2 (1 Pages)
Latest XIAOMI Air Conditioner (AC) Available At The Best Price in BD
Xiaomi is the second-largest consumer electronics and smartphone manufacturer globally. Xiaomi is owned by Xiaomi Inc. Although they are famous for making Smart Phones, Xioami Also manufactures laptops, Computer components, monitors, Smart home appliances, and many more. As a part of their Smart home product line, Xiaomi manufactures Smart Split Air Conditioner (AC) targeted toward home users. The very first AC marketed by Xioami is named Xiaomi MIJIA. Although Xiaomi Has announced that they are going to manufacture Portable ACs and Industrial ACs in the future.
What are the XIAOMI Air Conditioner (AC) series available in 2023?
If someone is looking for buying Xiaomi Air Conditioner (AC); there are only a handful of series available. In 2023, the Available Series of Xiaomi ACs includes Xiaomi Viomi and Xiaomi MI Inverter AC, and Xiaomi MIJIA Air Conditioner (AC).
Is XIAOMI Smart Air Conditioner (AC) Energy-Efficient?
When it comes to energy efficiency, Xiaomi Smart Air Conditioner (AC) prioritizes energy efficiency. Xiaomi Air Conditions(AC) usually comes with a 5-star Energy efficiency Rating. Making them up to 35% more efficient than any other Air conditioner. However, to make the energy efficiency more effective; Xiaomi ACs use a special Inverter that lowers the electricity usage even further. Every Intelligent Xiaomi Air conditioner incorporates the "Big Eye" LED screen and smart inverter management circuitry which regulates energy usage at a modular level.
What capacity is Xiaomi Air Conditioners (AC) available?
When it comes to capacity Xiaomi Air Conditioners (AC) offers a few choices. Since Xiaomi manufactures Split Air conditioning Units for homes and small spaces the cooling performance is affected by a few factors like the number of heat sources, the ambient temperature of the geographical region, the number of windows in the room, and surfaces exposed to the sun. Sop Xiaomi offers Smart Air Conditioner(AC) in 1 Ton, 1.5 Ton, and 2 Ton capacities. One single unit of Any Xiaomi AC is strong enough to handle the cooling of 1200 Square Feet up to 4000 Square Feet of space.
Why Xiaomi Smart Air Conditioner (AC) is a good choice?
As we have mentioned earlier, Xioami Air Conditioner (AC) is designed specifically for home or living spaces. To maintain the balance of performance and Energy efficiency these Air conditioner Units come with a wide variety of Smart features and technical improvements. These features are one of the reasons why a Xioami Air Conditioner (AC) should be chosen.
Xiaomi Air Conditioner (AC) features a Specialized Energy efficient inverter.
These ACs feature Natural Air Circulation which brings filtered fresh air from outside.
Xiaomi Air conditioner Units feature various modern filters like the HEPA filters, UV light filters, Electrostatic filters, Washable filters, Media filters, Spun glass filters, Pleated filters, etc. these Smart ACs also have a self-cleaning design.
Xiaomi ACs feature a Special Sleep mode which is very energy efficient.
Apart from the less energy consumption; Xiaomi Air Conditioners make very less noise when operating.
These ACs are made perfectly to work efficiently under any environmental circumstances.
Xiaomi Air conditioners are designed to be very Eco-friendly.
These AC units have a more modern and minimalist look.
Xiaomi Air Conditioner features Smart Application Control Alongside the remote.
These ACs feature an air passage up to 60 cubic meters per hour, as well as the creation of a breeze with a 3D effect.
Xiaomi also features a few advanced features in their ACs like Wifi, Smart temperature control, fan speed control, etc.
Buy From the best Air Conditioner (AC) Shop: Star Tech
Star Tech is the biggest Computer, laptop, Gadget, Office Equipment, Gaming, and Computing component retail and Online shop in Bangladesh. Order your desired Xiaomi Air Conditioner (AC) online from our official E-commerce website. Or, Visit any nearby Star Tech shop to buy a Xiaomi Air Conditioner (AC) of your choosing at the lowest price. Our products are delivered anywhere in Bangladesh. We have branches in Dhaka, Chittagong, Rangpur, Gazipur, and Khulna. We offer Servicing and Installation services with each AC.