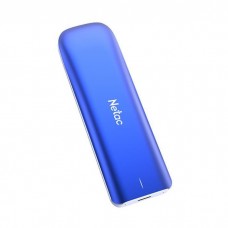 SSD Capacity: 500GB
Read speed: 980 MBytes/sec
Write speed: 930 MBytes/sec
Interface: USB Type-C
Out Of Stock
library_addAdd to Compare
Showing 1 to 1 of 1 (1 Pages)
Get the High-Performing Netac Portable SSD at a Reasonable Price in Bangladesh
In 2009, Netac was invented the world's first USB drive. In 2010, Netac was successfully listed on the A-share Growth level Enterprise Market. They focus on the manufacturing of flash memory products, such as Solid state drive, Portable SSD, DDR, and mobile storage products, etc. Their strategy is to create a world-class storage brand, as the core brand of the enterprise. Their Vision is To become a globe-leading flash memory application and removable storage supplier and the Mission is to provide easy-to-use, reliable and fashionable products and a good user experience for customers in the field of flash memory application and removable storage.
Netac Portable SSD is one of the popular Portable SSD brands in BD
Netac Portable SSDs are available in various form-factors and specification allowing to choose the right Portable SSD for you. While providing the utmost Sequential read and writing speed. You will also find much different storage space with your required Interface & Capacity.
Get Good Performing Netac Portable SSD Near You
Star Tech brings you the best quality Netac Portable SSDs with budget-friendly pricing to Bangladesh for your convenience. To buy Netac Portable SSD, you can visit our website and place your order there directly. You will also know that we are also providing you with a courier service facility that lets us send your desired product to any corner of Bangladesh. You can also enjoy our outstanding customer service by visiting our authorized outlet shops located in Dhaka, Gazipur, Chattagram, Khulna, and Rangpur.