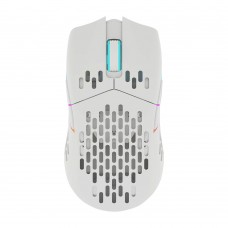 PixArt PMW 3389 Professional Sensor
Up to 16,000 DPI, IPS of up to 400
Programmable Custom Keys
Type-C Interface
shopping_cart Buy Now library_addAdd to Compare
PixArt PAW 3395 Professional Sensor
Up to 26,000 DPI, IPS of up to 650
Kailh GM 8.0 Micro Switch
Bluetooth 5.1 / 2.4 Ghz / Wired
shopping_cart Buy Now library_addAdd to Compare
Showing 1 to 2 of 2 (1 Pages)
Latest Keychron Mouse available at the Best Price in BD
Keychron is a china based PC accessories company based in China. It was originally named as KeyTron. But in later 2017; KeyTron was reinvented as KeyChron and they shifted their HQ from China to the USA. Keychron gained Massive popularity due to their Hot-swappable Mechanical Gaming Keyboards that were both cost-efficient and long-lasting. After their success in keyboard making, Keychron finally started manufacturing innovative Gaming mouses. These Gaming mouses feature a honeycomb structure for easy movement.
Keychron Mouses you can buy in 2023
Keychron is relatively new in mouse manufacturing. Although Keychron mouses have all the visuals and aesthetics to pass as a gaming mouse all of these are not gaming mouses. In 2023, Keychron has the M-series of gaming mouses available in Bangladesh.
Why choose a keychron mouse
As we have already mentioned, Keychron mouses are relatively newer to the market. But these mouses packs quite a specification for a budget-friendly RGB mouse. These mouses are made with the best-handpicked materials possible. These mouses are designed as office mouses but feature aesthetics similar to a gaming mouse. These mouses feature variable DPI counts ranging from 800 up to 1400. Keychron mouses are available in both wired and wireless form factors and they are ambidextrous by design. Some mouses from keyChron usually utilize blue light optical sensors, laser sensors,s or PixArt Professional Sensors. The gaming model of the keychron mouse features Programmable Custom Keys. these mouses usually utilize USB type A and USB Type-C Interface for connectivity. The wireless mouses use a 2.4 GHz wireless dongle. High-end keychron mouses like the M Ultra have a honeycomb-shaped hollow design for airflow. Keychron mouses are usually Plug and play and do not requires any additional driver.
Buy from The Best Mouse Shop in Bangladesh
Star Tech is the biggest Computer, laptop, and computing component retail and Online shop in Bangladesh. Visit any nearby Star Tech shop to buy your desired Keychron Mouse at the best price. We have branches in cities like Dhaka, Chittagong, Rangpur, Gazipur, and Khulna. It is also possible to order a Keychron mouse from our official E-commerce website. Our delivery has all the districts in Bangladesh covered. With each mouse, we provide extensive online support, servicing, and warranty.