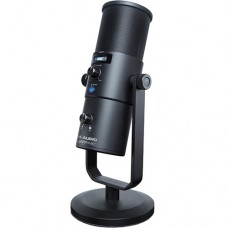 USB Microphone with Headphone Output
Wide-range 30–20,000Hz
3-capsule condenser USB mic
4 selectable polar patterns
Out Of Stock
library_addAdd to Compare
Showing 1 to 1 of 1 (1 Pages)
Buy Latest M-Audio Microphone at Best Price in Bangladesh
M-Audio was founded in the late 1990s. In 2000, Midiman introduced "M-Audio" as the new brand for their audio products.
The M-Audio Microphone comes with great-sounding features. The M-Audio Microphone delivers exceptional clarity with low-latency monitoring.
Get the Best Deals at Star Tech
Star Tech's online delivery system functions all over Bangladesh including the major cities like Dhaka, Khulna, Chittagong, and Rangpur. Order your favorite M-Audio Microphone on our website to get it as quickly as possible at your home.