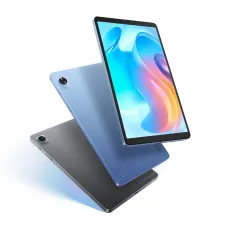 Display: 8.7" (1340x800p) Large Display
Processor: Unisoc T616 12nm Octa-core Gaming Processor
Storage: 3GB RAM + 32GB ROM
Battery: 6400mAh Mega Battery
Out Of Stock
library_addAdd to Compare
Showing 1 to 1 of 1 (1 Pages)
Realme Tablet PC Available at the Best Price in Bangladesh
Realme, a renowned consumer electronics manufacturer, quickly became popular with their mobile phones for having a youth-centric brand philosophy. With Realme Pads, the brand extends its service to its young and energetic customer base with feature-rich yet affordable Tablet PC. With a durable build and attractive design, Realme Pads offer great value for money. Realme is also famous for gadgets and accessories including smartwatches, neckband earphones, and laptops. DIZO, an affordable sub-brand of Realme makes some of the most durable feature phones you can find today. Surf the Realme Pads segment of Star Tech to choose, compare and buy at the best price in Bangladesh.
Realme Pad Series
The Realme Pads series started with the original Realme Pad in 2021 which saw huge success. Realme Pad 2021 offers an amazingly large 10.4-inch crystal clear display with great battery performance. It also boasts a high-performing gaming CPU, with up to 4 GB RAM and 64 GB ROM.
Realme Pad Mini
Entering in April 2022, the Realme Pad Mini succeeded the 2021 Realme Pads. This time the tablet got more compact and versatile, with great aesthetics and better speeds from the UniSoC processor. With a fine matte finish of metallic unibody offered in exciting colors, Realme Pad Mini is your perfect companion for entertainment, home office, or studies. This Realme tab is also great to hold and handles games with decent results.
Realme Pad X
Realme Pad Xseries is the premium tier of tablet PCs from the company. Pad X is a great tab if you are a young professional. The Pad X Realme tabs are designed with keeping greater productivity and collaboration in mind. To do that, Realme puts highly powerful CPUs like Snapdragon and a vivid touchscreen that's compatible with Realme Pencil Stylus for tabs. So, draw, jot, or read - it's all fun with Realme Pad X.
Features of Realme Tabs
Realme tabs are great in terms of design, affordability, and technology. With advanced components and multiple certifications, Realme tabs offer the perfect balance of features and style. Let's take a look at the features which make a Realme Pad great at such a price point.
Realme UI for Pads
Realme's customized user interface for tablets, the Realme UI gives a clean and simple look to Realme tabs. Based on the latest Android OS, this UI is free of bloatware and unwanted features. Rather, a minimal and close-to-the-original android interface allows snappy navigation and smooth animations. Realme UI also works great with tablet accessories you may want to pair with your Pad.
Multiple Display Adjustment Mode
3 individual modes on Realme Pads provide the best user experience while protecting the eyes. Using the Reading Mode, any text, PDF, or eBooks the ambiance of real paper. This mode tunes the color and brightness for optimum reading enjoyment, making your study time enjoyable. Or, turn on the Eye Comfort Mode to reduce the blue light coming off of the tablet's screen. Filtering out blue light drastically eliminates eye strain, and your eyes remain healthy with the Realme tablets. On the Dark Mode, keep using your Realme Pad keeping a low profile and without distracting others. All three modes elevate the total potential of ways you can use your Realme Pad.
Multi-user Mode
A user can set different systems on a Realme tablet for their family members. This is a great feature since a tab can be a family device in many instances. Different systems for different users ensure each of them gets their personalized interface and access to resources upon logging in. It is a simple solution for the diverse use of a Realme Pad keeping security and privacy in focus.
Adaptive Surround Sound
Realme Pads come certified for surround sounds right out of the device. Up to four brilliant speakers stream hi-res audio with Dolby atmos to create the most sensational audio. Support for real-time noise cancellation that adjusts to the surrounding objects, bringing you the most immersive entertainment.
Hi-Speed Connectivity
With the latest WiFi and Bluetooth standards, Realme Pads offer the best networking capabilities. Support for 4G+ nano & eSIM variants let you stay productive while on the move. Play data-hungry content, and games or download - the world is in your hands with a Realme Tab.
Purchase Realme Pad from Star Tech
Star Tech Ltd is the largest Tablet PC shop in Bangladesh, offering Realme Pads at the most reasonable price. Starting from 2007, Star Tech remains the most favored shop for Laptops, Mobile Phones, Desktop computers, gadgets, and accessories. Our online shop lets you get your tech product delivered anywhere in Bangladesh. Visit Star Tech outlets at Dhaka, Chattogram, Gazipur, Rajshahi, Khulna & Rangpur for the most satisfactory in-store shopping experience. Buy your favorite tech product from Star Tech for the most extensive after-sales services.