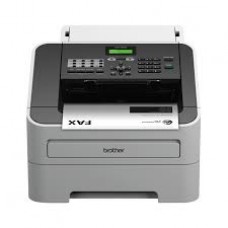 Transmission: 33.6K bps
Memory: 16MB
Capacity: 20-page
Up Coming
library_addAdd to Compare
Showing 1 to 1 of 1 (1 Pages)
Affordable Fax Machine Available in BD
Fax machines are one of those old technologies that is still in service. It uses a wired Data connection to send tangible documents from one peer to another. The modern day successor of Fax is the All-in-one printer.
The very first Fax Machine was invented back in 1843 by a Scotsman named Alexander Bain. Then in 1850 F.C. Blackwell invented the copying Telegraph. In 1860 a pantelegraph was invented. Then came telediagraph in 1895. Then after a lot of improvements were made. In 1947 the very first Fax machine was invented by Alexander Muirhead. In 1955 the very first successful Fax machine was invented. After that Fax came a long way and now you can use web Fax.
Fax Machine Price list in BD 2022
Available Fax Machine Brand to consider in 2022
Fax is a common technology that is still used in offices in Bangladesh. It is fairly easy to buy a good Fax machine. The Best Fax machine brands that are available in Bangladesh are: Brother, Canon, HP, Samsung, Epson, Pantum, Toshiba, Panasonic, Sony. If you want an All-in-One Printer then printers from Brother, Canon, HP, Samsung, Epson are available to buy.
Type of Fax available for purchase
There are a few types of Fax Machines available. They are :
InkJet Fax Machines
An inkjet Fax machine makes a digital image on Fax paper using compatible ink. These printers are made by companies like Brother, Canon, HP, Samsung, Epson, Pantum, Toshiba, Panasonic, Sony, Lexmark.
Laser Fax Machines
These machines use static electricity just as another form of glue. It uses a powdered dry ink rotatory system. Notable brands like Brother, Canon, HP, Samsung, Epson, Pantum, Toshiba, Panasonic, Sony, Lexmark make Laser Fax Machines.
Thermal Fax Machine
This is the most inexpensive Fax machine available today. They use heat and Ink Ribbons to print. It is a common item in the business supplies market
All-in-One Printers
This is the modern version of Fax available today. These printers are a combination of Scanner, Printer, Fax machine, and photocopier. Most workplaces and businesses today use this machine. Almost every manufacturer makes All-in-One printers.
Get Fax Machine from Star Tech
Star Tech is the biggest Computer, laptop, and computing component retail shop in Bangladesh since 2007. Visit Star Tech shop to buy a good Fax Machine at the lowest price. Our product and services are also available on the official E-commerce website, even in emergencies. We support multiple payment methods and Easy EMI facilities. After an order is placed, we will process and deliver it. Our delivery covers the whole country in BD. We have branches in major cities like Dhaka, Chittagong, Rangpur, Gazipur, and Khulna. with extensive online support, servicing, and warranty.