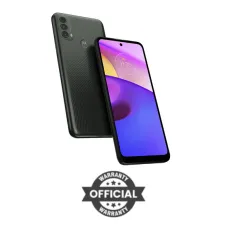 Display: 6.5" HD+ (720x1600) IPS LCD 90Hz
Processor: Octa-core 1.8 GHz Unisoc T700
Camera: Triple 48+2+2 MP on Rear, 8MP Selfie
Features: IP52, Rear Fingerprint, 5000mAh Battery
Out Of Stock
library_addAdd to Compare
Display: 6.4" FHD+ (2400x1080) OLED
Processor: Mediatek MT6769Z Helio G85 (12nm)
Camera: Triple 50+8+2 MP on Rear, 13MP Selfie
Features: Rear Fingerprint, 20W Fast Charge
Out Of Stock
library_addAdd to Compare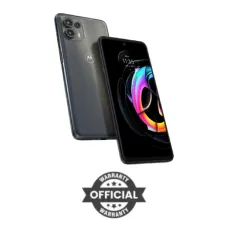 Display: 6.7" FHD+ (2400x1080) OLED 90Hz HDR10+
Processor: Mediatek MT6853 Dimensity 800U (7 nm)
Camera: Triple 108+8+2 MP on Rear, 32MP Selfie
Features: IP52, Side Fingerprint, 30W Fast Charge
Out Of Stock
library_addAdd to Compare
Showing 1 to 3 of 3 (1 Pages)
Motorola Mobile Phones Available at Lowest Price in Bangladesh
Motorola Mobility is a US-based subsidiary of the famous Lenovo Group. Motorola, the 100-ish years old tech company is also the first manufacturer of Mobile Phones. In the early 2000s, Motorola saw exhilarating success with their feature phones and also the first flip phone in the world. As a pioneer mobile phone brand, Motorola mobile phones are formidably popular in Bangladesh. Star Tech Ltd. is the largest seller of Motorola mobiles in Bangladesh. This segment showcases the latest Motorola mobile phone price in Bangladesh with detailed specs and performance remarks. Surf our Motorola Mobile Phones section to get your Motorola smartphone at the lowest price.
Latest Motorola Mobile Phone Price list in BD 2023
Hello Moto: The Motorola Mobile Family
Motorola's Android OS-based mobile family is popularly known as "moto" among smartphone users. Motorola's research and development unit relentlessly works to make access to technology easier for daily life and everyone. With that aim, the Motorola mobiles series is divided into 4 sections - affordable Moto E family, Moto G family Android mobiles, Moto Edge family premium line, and Moto Razr family flagship mobile phones. SAY HELLO to the four Moto Mobile families below.
Moto E family Smartphones
The Moto E family is the most budget-friendly line of Motorola mobile phones. Smartphones in this family get a maximum of 4 GB RAM with decent ROM for all use cases. The E family Motorola mobiles feature a highly durable body with exceptional battery capacity. Fingerprint sensor lock at the back and Maxvision HD+ touchscreen sandwiches security and entertainment in a single enclosure. Camera modules on the Moto E family mobile phones show stunning photo and video performance, thanks to Motorola's depth-sensing technology. E family Motorola mobile phones boast water and dust resistance. The Moto E40 mobile phone is one proud member of the E family of smartphones, that offers a 90Hz high refresh rate display. Moto E series mobile phones allow incomparable storage expansion so that you keep capturing your photos or videos and never run out of space. The E family Motorola mobile phones ensure long battery life and durability in Motorola smartphones.
Moto G Family
Motorola's G family mobile phones are upper to high budget android smartphones with amazing features. Even the lowest-end G family Motorola mobile phones get a super responsive FHD display. Top-tier mobile CPU-GPUs like Snapdragon 600+ processors power the G family Motorola mobile phones. Moto G family focuses on creativity, youth, and energy - such as the Moto G31 Smartphone. To satisfy young consumers, these Motorola mobiles offer clear photos with accurate colors. Motorola's photo-enhancing software intelligently adjusts for details in portraits. And with a 120Hz display, gamers can stick to performance to demanding mobile games day and night in turbo mode. Moto G Family smartphones are the perfect balance of beastly power in an elegant look.
Moto Edge Mobiles
Power mongers within the Motorola mobile lines, the Moto Edge family is the premium one. Moto Edge mobiles keep gamers at the edge of competition from day to night. Moto Edge smartphones come packed with higher numbers in everything. From the processor to the battery, casing to connectivity - everything checks for absolutely dominating performance. Motorola mobile phones from Moto Edge proudly house premium Snapdragon 800+ series sensors and the fastest charging technology. These are also a champion in camera performance, which gets an AI touch of smartness to work with colors, dynamic range, and brightness.
The "Edge" ironically says about the endless curved screen of Moto Edge mobiles. While the high-performing HDR10 screen of these mobiles keeps you captivated, cinema-quality Dolby Atmos sounds from the Moto Edge Motorola mobiles take you in the action. For the most accurate tones, smartphones of this family get a Pantone certification and the widest DCI-P3 color standards. Up to 144Hz refresh rates bring smooth transition and navigation at high frame rate scenes. Edge family mobiles are ready to undertake every tightly scheduled programs of your day with Motorola TurboPower's fast charging technology. So, if you are out for the most elegant and the most advanced smartphone purchase, any model from the Moto Edge Motorola mobile phone can meet your demands.
Motorola Razr Flip Phones
Moto Razr brings back the golden memories of flippable Motorola feature phones from the early 2000s. Moto Razr is a family of foldable mobile phones from Motorola, designed with the original Moto V3 flip phone. In the 2000s period, moto Razr phones set the Motorola flippable as an integral instrument of pop culture for their funky design and swift functionality. Moto Razr was revived with the new Razr smartphone in 2020. Motorola, the first brand to make folding phones in the world had to overcome challenges like did with the originals. A very old design concept with challenges never seen before. The Motorola Razr family bagged worldwide felicitations for the design of making a foldable smartphone with a touchscreen. The Razr family now has two members -the second is the Motorola Razr 5G. Razr phones this time come with 2 screens that you can interact with. The phone is super pocketable, and its unique structure is again starting to collect notes of praise among tech enthusiasts.
Latest Features of Motorola Mobile Phones
Motorola continues its take on mobile phones - not just making communication easier, but more hands-free and diversely integrating. From feature flip phones to today's smartphones: Motorola thrives to bring the latest technology. Technology that not just inspires awe, but is used in daily lifestyles. Below are such features that Motorola deems necessary for the upcoming times, and already present in their mobile phones.
pOLED Touchscreen: Polymer-based OLED screens used in most modern Motorola mobiles allow faster response on touchscreens. On top of the existing OLED screens, polymer particles also reduce power draw in a significant way. With a pOLED screen Motorola phone in hand, you are saving not just bills, but a global carbon footprint.
Pantone Certification: Pantone certifies for the truest color representation with accurate brightness and skin tones. With Pantone certification, Motorola mobile phones bring you the colors of the world as you see with bare eyes. This feature also reduces eye fatigue by eliminating blue light from screens, so you stay healthy while diving deep into content watching.
TurboPower: Motorola's TurboPower technology allows up to 50% charge within 10 minutes. Turbo power technology can charge your Motorola mobile at an insane speed so you are never late for work. Early morning tours or going camping for days - TurboPower in your Motorola phone makes sure you are always reachable.
Buy Motorola Mobile Phones from Star Tech
Get your favorite Motorola mobile from Star Tech at the best price in Bangladesh and elevate in style and performance. Besides Mobile Phones, we offer the best deals on Laptops, PC components, Tablet PC, and a wide range of mobile phone and computer accessories. Enjoy delivery to your doorstep by ordering from Star Tech online shop. We offer several payment facilities with expert suggestions and extended customer services. Experts at our branches in Dhaka, Chattogram, Khulna, Gazipur, Rangpur, and Rajshahi are ever-ready to make your tech purchases at Star tech the most satisfactory one.