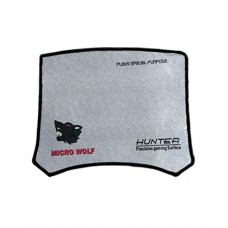 Steady, thick, rubberized base
A stable, comfortable base
Mouse Pad Material: Soft
Out Of Stock
library_addAdd to Compare
Showing 1 to 1 of 1 (1 Pages)
Buy Hunter Mouse Pad at the most affordable price in BD
Hunter mouse pads have gained popularity among PC users because of their quality and affordability. The biggest userbase of this mouse pad was desktop users but many Laptop and gaming PC users also use this mouse pad to enhance the graphical property of their work or gaming setup.
Hunter Mouse Pad Price List in Bangladesh 2021
Hunter Mouse Pad with maximum comfort and the lowest price
As of 2021, Hunter Only makes soft mousepads. They currently have only one series of mousepads called the Micro wolf. It is available in silver, white, red and black. You can use them with any gaming mouse or a normal low Dot Per Inch (DPI) wired or wireless mouse.
These mouse pads are comfortable, efficient, and most importantly affordable. Their mousepads are made with soft rubber or silicone base. Neoprene is used as a material for the base. The upper surface is made of bonded fabric. The whole border area of the mousepad is sewed to make it corrosion-proof.
These mousepads do offer the ability to control friction completed with a cushioned feel. These mouse mats are good for evening outs the lower spots on any textured surface. They have a variable thickness of up to 5 mm.
Despite these mousepads lacks some things like the arm cushion or any RGB lighting or wireless mouse charging dock. These mouse pads host a solid bold look that only enhances your workspace or gaming desk's visual aesthetics.
Hunter mouse pad shop in BD
Star Tech is the biggest Computer, laptop, and computing component retail shop in Bangladesh since 2007. Visit any Star Tech shop to buy your desired Hunter mouse pad at the best price. Our product and services are also available on the official E-commerce website, with multiple payment methods and Easy EMI facilities. After an order is placed, we will process it and after processing; will deliver it. Our delivery has Bangladesh covered. We have branches in major cities like Dhaka, Chittagong, Rangpur, Gazipur, and Khulna. We give extensive online support, servicing, and warranty.