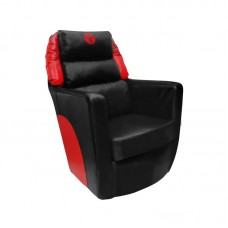 Fixed Lumbar Support
Next level of comfort
Material: PU Leather
Color: Red & Black
Up Coming
library_addAdd to Compare
Showing 1 to 1 of 1 (1 Pages)
Fantech Gaming Sofa available at the lowest price in Bangladesh
Fantech has been a trusted name in manufacturing gaming Accessories for a long time now. Founded in the early 2009s This gaming brand has made quite an impression on the gamers with its affordable yet premium quality gaming accessories, RGB PC casing, and gaming furniture. After Fantech's Gaming chair and gaming desk gained popularity among the gaming community they announced their line-up of Fantech Gaming Sofa. Even though they were inspired by Cougar's Gaming sofa, Fantech's design is different in many ways apart from being very affordable. All Fantech gaming sofas are currently marketed by one series named Fantech Alpha GC. Although Fantech has announced more series of gaming sofas in the future.
Design Aspects of Fantech Gaming sofa
As we have mentioned earlier, the Fantech gaming sofa is what we call a budget-friendly gaming sofa. But that doesn't make the quality less in any aspect. Even for a budget option Fantech gaming sofa has a solid design that features a versatile design. The Fantech Gaming Sofa looks like a slim reclining chair with a smaller footprint than a standard recliner. This makes it more adaptable in smaller spaces, such as a dedicated game area, home studio, or a home office. This gaming chair has an aggressive design with bright Red patch-marked areas on the armrests and the body. The Fantech Logo is woven into the upholstery and its cushioned back. The Brand emblem is printed into both the leg rest and the lower lumbar support of the sofa, which offers a variety of colorful embellishments. They also come with three padded back-rests embedded for better comfort.
Superior Upholstery
The Fantech gaming sofa's Premium Upholstery will appeal to everyone who values comfort and style. The entire sofa is usually covered with excellent PU leather, which is both long-lasting and breathable. A layer of synthetic webbing or microfiber runs throughout the whole Covering.
Materials used
The structure of Fantech's budget-friendly gaming couch gaming system is composed of a heavy-duty steel frame and long-lasting padding which can withstand repeated use. This gaming sofa is cushioned with high-density memory foam. Cotton and polyurethane are used to make these forms, which are good for long-term use. These paddings are really comfortable. And they're not too hard or soft for anyone's posture. These foams are said to be wear-resistant, implying their long-time endurance.
Ergonomics and Adjustability
Another key feature where this gaming sofa shines is its ergonomics. The unique design of the Fantech Alpha gaming sofa aids in maintaining appropriate posture, supporting anybody's motions, and reducing back strain. It has a lot of adjustment, good lumbar support, a high, curved backrest, and other ergonomic elements that help it be more ergonomically versatile. As for adjustability, Basic adjustment options include rotation and tilting, as well as a tilted backrest and foldable footrest on any Fantech gaming sofa. These gaming sofas also have the ability to recline. The recliner's angle can be adjusted from 95 to 160 degrees. It has a unique balance system that prevents the user from tripping over while reclining. This gaming sofa can hold up to 150 kg of weight
Buy From the best Gaming Sofa Shop in Bangladesh
To sum it up, Fantech really outdid themselves with this budget-friendly Gaming accessory. These gaming sofas have a quality that can rival any fancy expensive Gaming couch on the market while maintaining a low price tag. So a Fantech gaming sofa is really a win for any customer. Anyone can easily order their desired model of Fantech Gaming Sofa online from Star Tech's official E-commerce website at the lowest price and get it delivered anywhere in BD. Star Tech, is the biggest Computer, laptop, computing component, Gaming accessories, Office equipment, gadgets, Networking, and camera retail and Online shop in Bangladesh.