RGB Customizable Streaming Lighting
Qi Wireless Charging
Dual Side (Speed & Control)
Non-slip
Out Of Stock
library_addAdd to Compare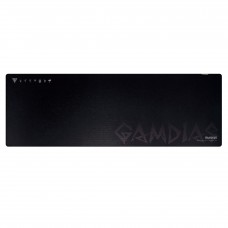 Extra-Elongated Layout
Honeycomb Fabrics
Non-Slip Design
Size: 900 x 300 x 3mm
Out Of Stock
library_addAdd to Compare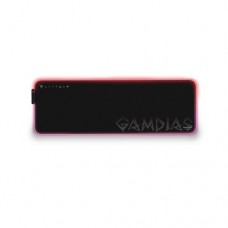 Non-Skid' (Anti-Slip) 100% Natural Rubber-Back Gaming Design
Absolute Control & Precision
Extra-Elongated 90 Centimeters Layout
10 Addressable Multi-Colored LED Effects
Out Of Stock
library_addAdd to Compare
Showing 1 to 3 of 3 (1 Pages)
Gamdias Mouse Pad available at the best price in BD
Gamdias is famous for making affordable gaming accessories with premium quality. They manufacture a variety of gaming accessories like gaming chairs, Gaming Keyboards, Gaming mouse, Cooler fans, Case coolers, Power supplies, Gaming cases, and MousePads. Gamdias gaming mousepads come in various types and sizes. These mousepads deliver a solid performance.
Latest Gamdias Mouse Pad series in 2023
Gamdias has only one gaming MousePad series available. The series is called NYX. Although NYX has a few subseries available in 2023. They are NYX SPEED, NYX P Series, and NYX CONTROL.
Gaming mouse pad with premium quality and features
As mentioned before Gamdias has only one main series of gaming mouse pads called NYX. The specialty of any NYX mousepad is its build quality, features, and performance. NYX series mouse mats have three main variations available. The first type is the NYX speed; designed to ensure maximum cursor speed. The second type is NYX control. These smooth surface mouse pads ensure maximum cursor control. The third type is NYX gaming mouse mats. These mousepads are hybrid in nature and contain two switchable surface sides. One surface is for speed and the other is for control.
Gamdias mousepads are comfortable, efficient, and affordable. They are made with a soft rubber or silicone base with Neoprene used as base material. The upper surface is made of bonded fabric or honeycomb-like fabric structure. The whole Side border area of the mousepad is sewed to make it stronger. These mousepads can control friction while giving a cushioned feel. Gamdias mouse mats are good for evening out any lower spots of a textured surface. Many models contain special state-of-the-art features like a wireless charging dock for smartphones and wireless mouse, QI wireless charging, etc. These mousepads also have fully customizable RGB lighting strips at the base of the mousepad. They support Micro-USB and USB type C ports for connectivity.
Best gaming shop to get Gamdias Mouse Pad
Star Tech is the biggest Computer, laptop, and computing component retail & Online shop in Bangladesh. You can visit any nearby Star Tech shop to buy Gamdias Mouse pad at the best price. We deliver all locations in Bangladesh. We have branches in major cities like Dhaka, Chattagram, Rangpur, Gazipur, and Khulna. With every purchase, we offer post-sale services, extensive online support, servicing, and warranty.