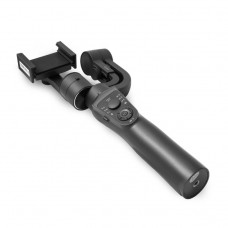 Compatible with smartphone under 6.0inch
Maximum load 75 - 230g
Working time:10-12hrs
Compatible with Android and iOS
Out Of Stock
library_addAdd to Compare
Showing 1 to 1 of 1 (1 Pages)
Get the Latest WiWU Gimbals at the Best Possible Price in Bangladesh
The WiWU Gimbal relies on the user's smartphone as the camera. It is a camcorder, as it is only packaged with its handle, camera gimbal, and case. The interface of the camera is controlled through a smartphone app. The Mobile Gimbals have 3 individual motors that keep the footage steady and stable without having to worry about editing afterward. When the gimbal is not in use, the motors lock automatically.
Best Friend to Have
The WiWU Gimbals are one of the best companions that take the perfect shot for you and allows you to do professional-level filmmaking. The Gimbals make your life easier and hassle-free as it reduces the load of having to do multiple works together and also provides the perfect power back up for your mobile for the whole day shooting. As time goes on WiWU is improving their technology in gimbal products and making it easy to access and provides the ultimate one hand use facility. The newest WiWU Gimbals provide object tracking, improved Slow-Mo, Time Lapse, Hyper Lapse, and many other Professional Video Making Features. The Gesture features eliminate the use of another person, as you will be able to do almost all the work by yourself with a few gestures. Finally, the Tripod that is provided with the gimbal, gives you the ultimate stability and single person working facility as you can use it on the go for its portability.
Getting the WiWU Gimbal from the Right Place
Star Tech provides you with the most reasonable pricing for these WiWU Gimbals in Bangladesh. You are able to purchase our products from anywhere in Bangladesh and make your payment through our online service. You can also visit us at our designated outlets to get your product from which are located in Dhaka, Chattagram, Khulna, Gazipur, and Rangpur.