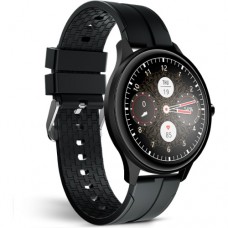 G+F Touch Panel Technology, Water Resistance IP 68
Display: 1.3 Inch (240 x 240) IPS Display
Memory: RAM 64KB, ROM 512KB
Bluetooth: 5.0, 200++ & DIY Watch Face
Out Of Stock
library_addAdd to Compare
Showing 1 to 1 of 1 (1 Pages)
Walton Smart watch, you can buy at the best Price in Bangladesh
Walton is the most Recognised multinational brand of Bangladesh. Walton was founded in 1977 by the name of Rezvi and Brothers and rose to fame after starting manufacturing Fridge and ACs in the early 2000s. Currently, Walton is a multinational Electrical, Electronic, and automobile company that has a global presence in more than 20 countries including Japan, China, the USA, and many more. Walton has won various prestigious awards and quality certificates. They host an Impressive world-class R & D facility that works on manufacturing newer and innovative products. In line with their Laptop, Smart TV, Brand PC, and PC peripherals Walton has started manufacturing Smartwatch model named TICK WSWA 1B. Walton TICK Smart watch has released in late December 2021 have gained quite a name within a short period of time.
Latest Walton Smart watch with loads of features and DIY Customization
As we have mentioned Earlier, Walton currently has the TICK series of Smart watches available. These Bluetooth smartwatches offer a lot of modern features that can stand tall with any reputed smartwatch brand.
Display
Walton Smartwatches usually come with either a circular or rectangular shaped IPS display. The display of Walton Smartwatches will utilize G plus F Touchscreen Panels. These smartwatches usually feature screens of various sizes ranging from 1.3 inches up to 2.5 inches. Walton normally uses an IPS display because it has a short delivery time with a High transmission rate to ensure a clear screen and sharp visuals. Walton Bluetooth smartwatches usually have a Screen resolution support of 240 x 240 pixels.
Materials and Protection
Walton Bluetooth Smartwatches are Eco friendly in design. The smartwatches are usually made with premium quality materials. The body of the Walton smartwatches is usually made with Ionized Aluminium and coated stainless steel. These smartwatches support two different types of straps made with TPU leather and Nylon. These non-toxic tasteless materials are fully recyclable and last way longer than regular rubber straps. Walton Smartwatches are IP68 certified water and dust-resistant. These ensure maximum protection against outside damage.
Features and customization
Walton Bluetooth Smartwatches Utilizes the latest Bluetooth 5.0 for connectivity and the range supported is up to 10 meters. These smartwatches come equipped with a huge variety of sensors and features that are focused on sports and fitness. These features cover regular sports and fitness options like walking, running, cycling, rope skipping, badminton, basketball, football. The fitness options of these smartwatches include a Pedometer, Calorie meter, Movement record, multi-movement mode, Heart Rate, Blood pressure & Oxygen, Sleep monitor, Breathing training, Sedentary Alert, and sleep monitor. Apart from these Walton smartwatches have basic smartphone companion features like the Incoming Call & Messaging Alert, Text Messages Notification, SNS Instant Messaging Notification, Timer & Alarm, etc. The TICK series of smartwatches have specialized features like the Camera & Media Control and Silent Alarm. It also supports advanced features like turning On Display via Motion Gesture. Walton smartwatches support a huge variety of visual customization. with more than 60 default watch faces the user can also use inbuilt storage to store and apply DIY or custom watch faces. the watch can store up to 200 Watch faces. To ensure a better performance these watches will support OTA Firmware Upgrade.
Battery, Chipset, and Charging
Walton smartwatches are made with Nordic's energy-efficient Nordic NR Chipset. These SOC chipsets are well known for good performance with energy-saving. Walton Bluetooth Smartwatches has a RAM of 64 KB and ROM of 512 KB capacity. The Smartwatch is powered by a 200 mAH lithium-polymer battery. The battery is optimized to provide a longer backup time. With the Nordic Chipset, the battery can really provide a good battery backup.Walton uses a Smart magnetic USB pogo Pin as its charging port. These Plugs are very efficient and ensure the lowest charging time.
Buy From the Best Smartwatch Shop Star Tech
Star Tech is the biggest Computer, laptop, and computing component retail and Online shop in Bangladesh established in 2007. Visit any nearby Star Tech shop to buy your desired model of Walton Smartwatch at the lowest price. We have branches in Dhaka, Chittagong, Rangpur, Gazipur, and Khulna. With each purchase, we provide extensive online support and comprehensive services.