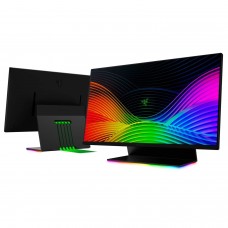 27" WQHD (2560 x 1440px) Non-Glare IPS Display
144Hz Refresh Rate, 1ms with Ultra Low Motion Blur
HDR400, 8-Bit + FRC dimming processor
90° tilt for easy setup and access to ports
Up Coming
library_addAdd to Compare
Showing 1 to 1 of 1 (1 Pages)
Buy Razer Gaming Monitors at the best price in BD
Razer is one of the most known brands known for its Gaming component and peripherals. Razer has always made signature gaming products aimed toward true gaming enthusiasts. The three-headed snake trademark logo of Razer is one of the most known logos in the gaming and esports communities worldwide. With a fan base that spans every continent, the company has designed and built the world's largest gamer-focused ecosystem of hardware, software, and services. Their products include Gaming Desktop components, Gaming headphones, Gaming peripherals for PC and Consoles like Keyboard, Gaming Mouse, Mousepad, Wireless charging for Consoles, and many more. Although Razer is a known name among gamers worldwide they have started making Gaming monitors very recently. So far, Razer has marketed only one model of Gaming monitor called Razer Raptor. This monitor has made quite a name for itself because of its innovative design, cool aesthetics, and unique features.
Why Choose the Razer Gaming Monitor
Razer is one of the most known brands for making premium quality Gaming equipment. Their gaming accessories have a very good reputation. The Gaming Monitor is no exception. But what makes a Razer gaming monitor unique and stand out tall. Here we will tell you why exactly you should buy a Razer Gaming Monitor. Razer Gaming Monitors were built to satisfy the most enthusiastic e-sports and Gaming enthusiasts. They were made with premium quality materials and the design went through significant graphical alteration. This ensured premium quality and a sophisticated outer look. But looks are not all these monitors has. They were designed to be the ultimate gaming monitor that can deliver high-quality gaming performance.
Key performance metrics of a Razer Gaming Monitor
Razer gaming monitors have a variable refresh rate up to 165 HZ which ensures a faster and clear output. These monitors utilize high-performance IPS Panels with QHD Support. QHD monitors' supported resolution is up to 2560 x 1440 pixels. The Monitor stand has a highly customizable and sleek Cable management terminal at the back of the stands. The backside has a textured finish and it comes with a joystick for adjusting monitor settings. These gaming monitors support HDMI, VGA, and High-speed USB 3.0 and USB type C ports. Razer Supplies Custom-made cables to be used with their monitor and regardless to say they are well-built and high performing.
Apart from the 165 Hz high refresh rate and QHD high resolution, Razer Gaming monitors have a 1 Ms. GTG(Grey to Grey) Response time with Ultra Low Motion Technology. This ensures a sharper image and smooth frame rate. To prevent frame rate issues, Razer Gaming Monitors comes equipped with Adaptive-Sync Technology. They also have Nvidia G-Sync Compatibility with AMD FreeSync support. This eliminates any stutter and input lag while gaming. So all this makes Razer Gaming Monitors a real good Gaming Choice.
THX Certification of Quality
The most unique thing about these Monitors is, they are the first ones to have THX Gaming Certification. THX Certification is a worldwide recognized assurance certification of uncompromising quality, consistency with superior performance. This certification consists of more than 400 standards and priority tests that blend art, technology, and the dynamics of real-world viewing environments. This is all done to ensure products deliver the best performance possible.
Buy From the Best Monitor Shop in BD
Star Tech is the biggest Computer, laptop, and computing component retail and online shop in BD. Visit any Star tech shop to get your desired Razer Monitor at the lowest price. If you place your order from Star tech Online shop then you will get delivered anywhere in Bangladesh. We have branches in major points like Dhaka, Rangpur, Gazipur, Chittagong, and Khulna. With each purchase, we provide extensive online support, servicing, and warranty.