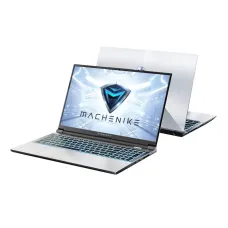 Processor: Intel Core i5-12450H (12M Cache, 3.30 GHz up to 4.40 GHz)
RAM: 16GB DDR4 3200MHz , Storage: 512GB SSD
Graphics: RTX 3050 Ti 4GB Graphics GDDR5
Features: Backlit Keyboard, 144Hz, Type-C
Out Of Stock
library_addAdd to Compare
Showing 1 to 1 of 1 (1 Pages)
Machenike Gaming Laptop Price in Bangladesh
Machenike is a newly founded professional Gaming brand from China that entered the PC hardware industry in 2014 under the tech giant Haier and Alibaba, one of the largest global e-commerce businesses. Machenike gaming laptop is their most prominent line of products since they offer the best value for money. If you are in the market for a high-performance gaming laptop for work and other tasks, a Machenike laptop can pose the best possible choice. Due to the unbeatable pricing and advanced gaming features, the Machenike laptops are equally popular in the Bangladeshi gamers' community as well. To get one of these laptops at the best price in Bangladesh, surf this segment of our widest range of Machenike Laptop prices.
Machenike Gaming Laptop
Factors Influencing Machenike Laptop Prices
As game-centric laptops for both entertainment and productivity, gaming features influence the Machenike gaming Laptop prices the most. Machenike laptops now enjoy surging popularity in Bangladesh, parallel to the global hype for its customer-invoking prices and features. Looking beyond the eSports demanding hardware, there is a technological generation to consider as well. To facilitate seamless gameplay, Machenike laptops come with the latest ports and connectivity. Let's take a detailed look into the pricing factors of Machenike Laptops in BD.
Diverse Gaming Configurations
Machenike Gaming Laptops come in a versatile gaming configuration to meet the users' ends from different gaming practices. Whether it's an arcade or full-on frontline battle, Machenike laptops ensure you have the right tool in hand with their configurations, for instance, Machenike partners with Intel and Nvidia to bring their latest generation processors with ray-tracing facility. Machenike laptops are a top choice for playing AAA titles such as DOTA, RDR, Cyberpunk, CoD, or the latest FIFA games.
Accurate Laptop Display
The latest Machenike gaming laptops are a trailblazer when speaking of their laptop displays. Machenike laptops not just offer a typical high-refresh-rate laptop screen, but they are fine-tuned to the pixel level for the most immersive gameplay. Plus, with a wide color gamut present in these displays along with very high peak brightness, consuming content like HDR and ray-traced graphics is a breeze as you get the most accurate visual reproduction on your screen. This also helps in intensely creative tasks like sketching, modeling, and video and image retouching. Machenike also features a 100% sRGB calibrated display, making them ideal for any visual tasks thrown at them.
User Interaction R&D Methods
Machenike Laptops are built in a process to accommodate the best user experience, of which the R&D takes a toll on final costing. Machenike gaming company achieves its highly user-friendly design by using a User Interaction Method. By using this state-of-the-art product development method, Machenike ensures the best ergonomics for laptops along with the most durable laptop for gaming.
Uncompromised Durability
Each Machenike laptop passes the factory gates only after finishing the most painstaking durability tests by today's standards. Machenike shows no compromise during the extensive quality sampling to withstand even the most aggressive maneuvers. Be it the internal components or the highly robotic exterior, machenike laptops live up to their prices with their uncompromising durability and quality.
Hi-Fidelity Sounds
Machenike laptops are a treat to gamers, binge-watchers, and audiophiles alike since the laptops from this brand always come with high-fidelity audio technologies. By integrating advanced audio features like Nahimic Audio FX and Sound Blaster Cinema, Machenike Gaming laptops always deliver an engulfing sound experience from all around. With the bombarding volume and crystal clear resonance, jump into the action as you play the heaviest games on your Machenike.
Which is the Best Machenike Laptop for Gaming?
If you are looking for the best Machenike Laptop for gaming on the move, the Machenike shop BD at Star Tech is the place to go. Since the manufacturer releases new models every year in different series for many types of gamers, it can be overwhelming to choose your ideal budget gaming laptop by Machenike. You can gather your impression of The Best Gaming Laptops in BD by weighing the price and performance potential of different Machenike Laptop series.
Machenike L Series
Machenike L series, or more commonly Machenike Light gaming laptops are among the thin and low-profile devices by this Chinese brand. In the L series Machenike Laptops, gaming prowess comes in an elegantly shiny, thin, and light chassis, adorned with RGB gaming stipe lights. But don't take the Machenike L series laptops for light performance. With top-of-the-line discrete GPU for a gaming laptop, these laptops are made to make the ultimate gaming on the move. Machenike L series laptops often feature powerful fast-charging technology. If you want to stay mobile while having the most advanced gaming configuration laptop with great backup, the Machenike L gaming laptop can offer the best deal in Bangladesh.
Machenike S Series
Machenike Star, abbreviated 'S series'; is the more robust gaming laptop line by this company. The Machenike Star gaming laptops open up a realm of playing the most resource-hungry games without breaking the bank. The Machenike S series laptops often come integrated with the Nvidia Ti graphics card for laptops. This means the customer gets the absolute upper hand to enjoy the most graphics-intensive games. The design language translates into a highly efficient gaming laptop, rapidly cooled by the large air outlets that scream performance from the inside to the out. Plus, some of the best Machenike gaming laptops in the Star series are available in camouflages to complement the battling. For making these the best gaming laptop, Machenike offers a gigantic amount of laptop RAM so you have the most flexible pricing options.
Machenike Machcreator
Machenike Machcreator is their truly dedicated series of Gaming laptops for work. The Machcreator is a sophisticated laptop series that offers the best of both worlds - gaming, and productivity at the same time. With Machcreator, you get to experience a clean and slim design, that is often coated with a premium color that looks aesthetically soothing to the eye. For trackpads and keyboards, like other Machenike series, you can have a zonal RGB backlit facility with very tactile feedback. This laptop for work is an equally worthy contender for all types of creative to office tasks along with a chance for engaging gaming sessions.
Price of Machenike Affordable Gaming Laptop in BD
Machenike laptop prices are not out of the world, but rather affordable for gaming laptops. The latest Machenike laptop in BD price starts at just above 112,000 BDT. In the pricing spectrum for gaming laptops, it is quite affordable considering the perks they come with. You can get today's updated price of a Machenike gaming laptop in BD from Star Tech since we offer the lowest official price in the Bangladesh laptop market.
Why Machenike Laptop is Worth Buying
To answer why a machenike laptop is worth your penny you have to consider some common queries in the market, which indicate the brand's popularity, product quality, and customer services. Let's get into them below -
Are Machenike Laptops Popular?
Machenike laptops are highly popular in mainland China and the Southeast Asian region. Machenike has business operations in Singapore, Malaysia, the Philippines, Thailand, and Vietnam. Machenike has its products reigning in the Mexican markets now, after successfully gaining attention from the European computer markets.
Who Makes Machenike Laptops?
Machenike is a subsidiary of Haier Group, and recently it became the Chinese government's vessel to demonstrate the rise of the gaming industry in the country. Partnering with various global tech giants like Twinmos, SAMSUNG, Adata, LG, Clevo, Seagate, LITEON, Alibaba, and others, Machenike laptops are made in China. The company was listed in Chinese stock in 2017.
How Good is Machenike Customer Service?
To provide hassle-free gaming and computing experience, machenike has its RMA across the globe including Europe, Mexico, and Asia. Machenike ensures top-quality customer satisfaction by offering efficient RMA and after-sales service with brand warranties. The Machenike global website has all the necessary driver support, ready to download and install at a click away.
Buy Machenike Laptop from the Biggest Gaming Laptop Shop at Best Price
Buy your choice of Machenike Laptop from Star Tech, the biggest gaming laptop shop in BD. Star Tech offers the best price on Gaming Laptop along with Ultrabooks, PC components, accessories, Gadgets, and all your IT purchases. Enjoy seamless online shopping from Bangladesh with the Star Tech e-Commerce website and outlets in Dhaka, Chattogram, Khulna, Rangpur, Rajshahi, and Gazipur.