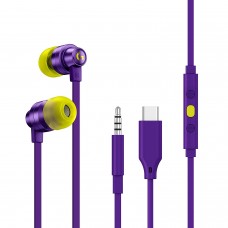 Supports with PC, mobile, Xbox, PlayStation, Nintendo, etc.
2 dynamic drive: 5.8 mm + 9.2 mm
4mm ECM microphone, sensitivity: -42 dB
3.5 mm connector & USB-C adapter
shopping_cart Buy Now library_addAdd to Compare
Showing 1 to 1 of 1 (1 Pages)
Buy Brand new Logitech Earphones at Best Price in Bangladesh
Logitech was co-founded in Switzerland in the year of 1981. The name "Logitech" is originated from the French word "logiciel" but this brand is commonly known as "Logicool" in Japan. The company focuses on personal computer accessories consisting product line of headsets, keyboards, mice, tablet accessories, webcams, Bluetooth speakers, universal remotes, etc.
Choose your favorite Logitech Earphones
Logitech Earphones provide the quality within different kinds such as stereo single & double port, wired & Bluetooth wireless. Experts from Star Tech are constantly updating the product line of Logitech Earphone to deliver the most recent models. If you are searching for Logitech Earphone at a low or high price that fitting your budget surely we are the best choice.
Order online to get the best Logitech Earphones
StarTech online delivery allows you to order any Logitech Earphones on our official site to get it in your location within the fastest possible time. Your desired Earphone is just a click away so order online for a hassle-free purchase.