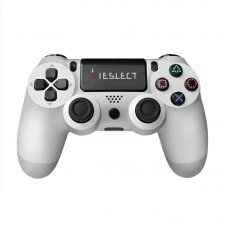 Compatible with: PS4/ PS3/ PC/ Android TV
Input Power: 5V=800mA
Battery Type: Lithium-Ion
Battery Capacity: 1000mAh
Out Of Stock
library_addAdd to Compare
Showing 1 to 1 of 1 (1 Pages)
Kieslect gamepad Available at the best price in BD
Kieslect is a Chinese gaming peripheral manufacturer known for making reliable cross-platform gaming peripherals. One of the most known product lines is their gamepads and gaming controllers. These cross-platform controllers have a variety of device compatibility and a very low latency. The affordable price tag and superior performance make it a great choice for a budget wireless gamepad.
Notable Kieslect gamepads in 2022
Kieslect is a relatively newer company in the Gamepad Market so they only have one series of Gamepad Available. It is the KIEGM Gamepad series. This series has both Wired and wireless gamepads.
Good quality gamepad with premium quality
Kieslect gamepads are made with the best materials available; this ensures the premium build quality of these gamepads. Kieslect has both wired and wireless gamepads. Although there are only a few of them available. These Controllers use Xbox controllers button layout and they utilize USB ports for connectivity. The wired version supports hi-speed USB 3.0 ports and has backward compatibility with USB 2.0 Ports. The wireless version uses a 2.4 GHz wireless connection. Although they do not support Bluetooth. To connect this gamepad with your PC you must utilize the connector dongle. It is supported in a wide variety of devices including PS4, PS3, PC, Smart TV, Android TV and other Smart devices. Although it was made to be used with PlayStation, X-Box and PC. This Gamepad uses 5V 800 mA DC Output. The wireless version of the Kieslect gamepad uses a built-in rechargeable Lithium-Ion battery with a higher capacity of 1000 mAh. This gamepad uses high-efficiency smart chip ARM cortex A53 quad chips which ensures a very stable connection. To make gaming more immersive These controllers come with specialized features like dual vibration feedback motors,360-degree Precision Direction Control, 0.02s RT response delay, and precise Direction Change key. These gamepads have personalized light bars that can display game characters and physical strength in Real-time. So overall Kieselect gamepads are a bang for your buck in case you want an affordable controller.
Buy from The best Gamepad Shop
Star Tech is the biggest Computer, laptop, and computing component retail shop in Bangladesh. Visit any Star tech shop or our Official e-commerce website to buy your desired Kieslect Gamepad at the lowest price. We will deliver it anywhere in Bangladesh. We have branches in major points like Dhaka, Rangpur, Gazipur, Chittagong, and Khulna. We provide extensive online support, servicing, and warranty with every purchase.