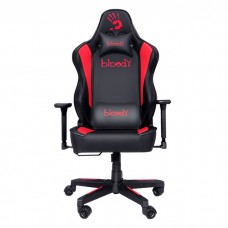 High-Density Mold Shaping Foam
Sturdy Frame Construction
Stable 4-Star Nylon Base
3D Adjustable Armrests
Out Of Stock
library_addAdd to Compare
Showing 1 to 1 of 1 (1 Pages)
A4Tech Gaming Chair Available at the Most Reasonable Price in Bangladesh
A4Tech Co., Ltd is a worldwide very famous brand that is dedicated to making the best of the best accessories for gamers and non-gamers alike. They make products like gaming chairs, mouse, keyboards, mousepads, headphones, and more. These products are made with very high-quality materials and are able to last for very long. A4Tech also has a special gaming brand named Bloody. The Bloody category products are made specifically for gamers and with keeping all the requirements of gamers in mind.
A4Tech Gaming Chair Fulfilling All Your Comfort Level
A4Tech has brought you one of the best gaming chairs for gamers. This gaming chair is made to support you as long as you need without having any kind of problems or breakdowns. The gaming chair is made with gamer's requirements in mind, so they have integrated 3D adjustable Armrests, Ergonomic Lumbar support, 360°Swivel, and more. These special and unique features make the gaming chair a must-have item for gamers.
Well Built A4Tech Gaming Chair Support System
The gaming chair is primarily made with a very sturdy frame that consists of rigid metal to maintain your perfect sitting position at all times. It also has a maximum recline angle of 160 Degree and has the center of gravity of the chair in the middle. The gaming chair also has very high-density mold shaping foam that is designed with anti-collapse seats and high-quality carbon fiber materials. For the ultimate comfort of gamers, the cushions have high-quality breathable materials. The chair also has a seat height adjustable feature that allows it to adjust up to 10 cm up or down to the user's convenience. The base of the chair is made with 4 Star Nylon Base which can support huge amounts of load at once and still hold its internal and external structure without fail.
A4Tech Gaming Chairs Available Near You
You can find the A4Tech Gaming Chair at Star Tech at the best price in Bangladesh. Visit our website and place an order directly for your gaming chair. You can also visit our shops located in Dhaka, Chattagram, Khulna, Gazipur, and Rangpur to personally see the gaming chairs and take them home with you.