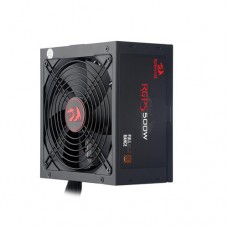 Stable Power Supply
80Plus Bronze certification
140mm diameter fan
Over Voltage Protection
Out Of Stock
library_addAdd to Compare
Stable Power Supply
80Plus Bronze certification
140mm diameter fan
Over Voltage Protection
Out Of Stock
library_addAdd to Compare
Showing 1 to 2 of 2 (1 Pages)
Redragon Power supply available at the best Price in BD
Eastern Times Technology Co., Ltd was established in 1996 as an accessories manufacturer in China. They Soon Rose to fame for the quality of their product. And Launched their Premium Gaming Brand Redragon. Redragon Power Supply is one of the many product lines they offer. Redragon also manufactures Gaming peripherals like RGB Mouse, RGB Keyboard, Gaming Chair, Gaming Desks, and many more. Redragon Power supply Units Redragon PSU stands out in the market for a few game-centric features which are rare for a Power supply at this price point.
Redragon Power Supply Units with features ideal for a gaming build
Redragon power supplies are designed with demanding gaming builds in mind. So apart from supplying power to the components like the Motherboard, RAM, and Storage; this Power supply unit design has a few special features which help to run the system at its full potential as well as secure it. Here we will point out a few of these features that make them a good pick for a gaming PC build:
ATX12V Form factor with various Connectors
Most Redragon Power Supply is available at the latest ATX12V Form. By looks, It is similar to the original ATX form factor but features a 4-pin plus 12V connector to deliver power exclusively to the processor, and a 6-pin auxiliary power connector for plus 3.3V and plus 5V voltages, removing the 6-pin auxiliary power connector. Also, the ATX12V also isolated the current limit on the 4-pin processor power connector with increased efficiency requirements and mandated improvements.
80 Plus Gold Efficiency Rating
Almost every Redragon Power supply units has an 80 Plus Gold Efficiency rating. It is really remarkable as an 80 Plus gold-certified PSU with such a low price point is rare in the market. With an efficiency rating of 80 percent, These Power Supplies consistently provide 80 percent of their rated wattage as the power to your system, while losing the other 20 percent as heat. This ensures all the components are working effectively
Convenient Cabling with Motherboard Fan control
Whether it's a modular, semi-modular, or non-modular Redragon Power supply units are designed with easy-to-manage cabling so the casing has a better clearance for graphics card or additional SSD and HDD storage. Redragon Power supplies also support the Motherboard fan controller. It is possible to adjust the RPM frequency of the cooling fans from the BIOS interface.
iCUE Controllable RGB lighting
Many Redragron Gaming Power supply units have Controllable RGB lighting strips which support iCUE software customization.
Safety features
Redragon Power supply Units are equipped with a variety of safety features, namely: Overcurrent protection(OCP), Overtemperature protection(OTP), Soft Start, Power Factor Correction (PFC), Undervoltage Lockout, and Over Voltage protection (OVP).
Buy from the best Redragon Power supply Shop in BD
Redragon Power supply Units clearly have all the characteristics of an efficient Power supply Unit; Making this power supply suitable for any gaming PC. So if you want to build a PC with one; you can use the PC Builder utility on the Star Tech E-commerce website. Star Tech is the biggest Computer, laptop, and computing component retail shop in Bangladesh. You can also order a single Redragon Power supply Unit Online and get delivery anywhere in Bangladesh.